That's a really lame post title. Alrighty then. I have a lot of reviews I need to catch up on, so here are four tiny ones for ya!
-----
Bitter End (by Jennifer Brown)

I never read
Hate List
because my friends all said it was so depressing. So I went into this one praying that I wouldn't want to cry myself to sleep for a week. Luckily, I didn't do that!
Bitter End
is about a girl who's in an abusive relationship and trying to figure out how to salvage the sweet boy that she had fallen in love with. It is sad, yes, but it's more enlightening than anything else. I've read a few books about this, but none of them touched on what Ms. Brown did. Alex knows she's in a bad relationship; she's just embarrassed that if she tells someone, she'll be judged as that girl who let her boyfriend hit her. I thought it was insightful and truthful to how that kind of relationship would happen, especially to the girl who knows what's happening is wrong. I absolutely understood why Alex felt the way she did, and why she made her decisions. I enjoyed everything about this book, even if it was a difficult subject to take in.
Blood Magic

(by Tessa Gratton)

Tessa was the first person I ever interviewed, so when I finally got to read
Blood Magic
, I was pretty dang pumped. And for good reason! Creepy history, mysterious murder, adorable boy and all set in Missouri? It was awesome. Having just discovered a journal of spells, Silla and Nick unite to tame the magic and maybe find a little romance along the way. It's really a pretty dark book, but there are plenty of laugh out loud moments. It's funny how Ms. Gratton is able to make such fun, light scenes and then just a few pages off, have something involving a crap ton of blood. And there really is a lot of blood. Sometimes it made me a little queasy, but I wouldn't have had it any other way. The story and idea as a whole were original and it was fun to try to piece the mystery of who killed Silla's father together. It took me a little while to get into the book, probably because it's from Nick and Silla's separate point of views, but once I was in, I was hooked.
Imaginary Girls

(by Nova Ren Suma)


Oh my gosh, this is such a creepy book! I devoured it. When Chloe was younger, a girl died in the reservoir and Chloe was sent away from where she lived with her sister, Ruby. Fast forward two years, and Ruby brings Chloe back to their town. Except now the roots of their life together has changed. Ruby is keeping secrets, and there is something precarious and deadly waiting just around the corner. I can't even begin to explain this book. It was so mysterious. Everything about it. Nothing was explained. Ever. When you piece together what's happening, you get chills, and even then you're only guessing if you're right or not. Ruby and Chloe's relationship, while touching at the beginning, bordered on scary at points. But it was all written so well that you can't help but want to find out what's next. I love anything that gives me goose bumps, but add in the fact that it's written beautifully and that you can't help but be sucked in—I'm charmed. I'm not sure if everyone would like this one, to be honest, but I definitely enjoyed it.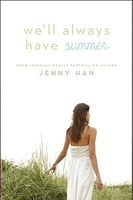 We'll Always Have Summer

(by Jenny Han)

As you know, the
Summer
books have always been a fave. I'd been dying to get my hands on this one the second I finished the second book. It's the last of the trilogy and it hurt to read knowing that I wouldn't have any more of Belly, Conrad and Jeremiah's story. But when I read it… honestly, I was a little disappointed. I don't know if I went in expecting something different, but I didn't feel like this one touched on the emotions like the other two did. Everyone is in college here, and being just a year away from college myself I thought I'd love this one even more, but it was just a bit of a letdown. It didn't feel like it belonged with its companions. I was happy with the end—who Belly finally picked—but the way it got there, it just didn't click with me. We were sort of forced to dislike one of the boys for it to happen, and I hate that; I almost feel like it was used as a cop out so Belly's choice would be easy. I felt like some of the events and decisions that happened weren't true to the characters. We finally got Conrad's point of view on things though, which helped settle some of the previous problems we might have had with him, so that was nice. But I don't know. I wasn't wooed like I usually am, so it hurt to know that the books ended this way.
-----
*blinks* Wow, this is now a really long post. (And sorry for the huge blocks of text!)
If you've read any of these, how did you feel about them?